The HUB
Inspiring people to take the next step on their journey with Jesus
Whether this is your first service with Hutch First Naz or this is a normal part of your weekend, we are so glad that you are here today! We would love to know that you're here through the Connection Card.
Making the decision to follow Jesus is the best decision you will ever make! Congrats! We're so excited for you and want to help you as you take your next steps. Please complete this form so one of our pastors can reach out to you!
Trunk or Treat 2023
Trunk or Treat is the largest single outreach event that we have each year, brining thousands onto our ministry campus! This year the fun will be on Sunday, October 29th, from 4:00 – 6:00 PM.
For this event to be a fun success, we all have to join together to help. There will be candy bins in either lobby soon where you can drop candy donations. But the most fun way of participating is by being one of the trunks! For more info and to sign up to bring your trunk, please go here!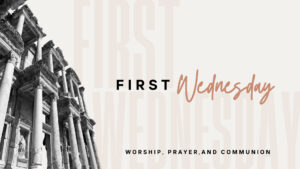 First Wednesday Prayer
On Wednesday, October 4th, beginning at 6:30 PM, we will gather in the worship center for a time of prayer, worship, and communion. This will be an unhurried time to enjoy God's presence and be encouraged. Ministry to kids and students will continue with their regularly scheduled Wednesday night activities.

The giving of generous people like you is what allows Hutch First Naz to be a church that is inspiring people to take the next step on their journey with Jesus. We know and have seen that God can use our giving to change the world around us and change our own lives in the process. Thank you for your generosity!
I'm ready for my next step!
We consider it an honor to help you identify and take your next step here at Hutch First Naz. We believe there's a next step for every follower of Jesus, no matter if you're a new believer or if you've been following Jesus for years.